Artists
Somebody Else The 1975 When the band's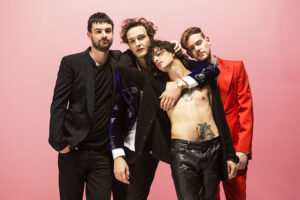 That attitude informs every note, word and texture on the new album. It is as if everything the band have ever done, every setback and triumph they've experienced, has been leading up to this point. From the opening bars of The 1975, a reworked version of the track that opened their debut album, to the rough-demo acoustica of She Lays Down, via the monster earworms Love Me, She's American, The Sound and This Must Be My Dream, the ineffably beautiful ballads Change of Heart, Somebody Else and Paris, the incredibly fragile and poignant Nana, which Matty wrote about his grandmother's death, the crepuscular ambience and troubled self-inquiry of Please Be Naked, Lostmyhead and the title track, and the anguished stock-taking and reckless candour of The Ballad of Me and My Brain and Loving Someone, the album embarks on a journey of twists and turns, its unorthodox but brilliantly realised sequencing – and that insanely long album title – is a thrilling affirmation of what makes this band so defiantly individual and steadfastly indifferent to the tired old formulas of the pop machine.
When Matty sings on the new track If I Believe You, "If I'm lost, then how can I find myself?" his fans will identify at once. The relationship between The 1975 and their fanbase is built on an empathic, almost telepathic understanding. It helps explain why the band's gigs have the fervour of a revivalist meeting; and why, no matter how big The 1975 have become, they remain conscious of the vital part their fans play in everything they do. The thought of being aloof, remote pop icons inaccessible behind a velvet rope, is anathema to them. "We've got fans, and then we've got fans. Why would you want to feel above that? So much of the power in what we're trying to do comes from their emotional involvement in and understanding of the way I feel things. I've never dramatised or fetishised the reality of addiction or flirted with the idea of suicide and subjects like that, but nor have I shirked them, and I think that's why they relate to us. I'm convinced that what people really want to invest in when it comes to music is something they can genuinely identify with. Otherwise, what? It's a backdrop to our lives? Music is more than that. It's everything."
Before Matty Healy could go forth and do battle with the world again, he had to get the small matter of doing battle with himself out of the way first. The 17 songs on The 1975's remarkable, incandescent new album I like it when you sleep, for you are so beautiful yet so unaware of it give some hints as to what that battle involves. Now, I could make a few guesses about what goes on in Matty's head but they'd be stabs in the dark – besides, I'm not sure even Matty knows what's going on in there – or he does, but it changes from minute to minute – so how could we? Confidence, anguished self-doubt, morbid introspection and ceaseless self-laceration surely play a part; ditto arrogance, urgency, passion, panic; add to that already over-crowded space ambition, exhaustion, elation and dejection. As one of the bands inner circle says, "Matthew has what every great frontman has: a massive ego, and extremely low self-worth. That's great for a frontman; for a human being's mental health, though, it's debilitating. His confidence is sky-high but wafer-thin. He has amazing self-belief and resilience, and a huge work ethic, but all of that is shadowed by a darker side."
When The 1975 first emerged in 2012 with the Facedown EP, it was instantly clear that this was a band that were going to be controversial, even problematic, for some. Their sound was unashamedly glamorous (one of Matty's favourite words), the lyrics heart-on-sleeve, spill-your-guts confessional, their music brazenly diverse. And, in their frontman, the band possessed a singer who saw live performance as a precipice just asking to be jumped from. Matty's head might be a mix of impenetrable fog and startling lucidity, but he has always been totally clear about the primacy of unabashed charisma and fierce commitment in the makeup of a lead singer. Never apologise has, he says, long been the band's mantra.
Website: http://the1975.com