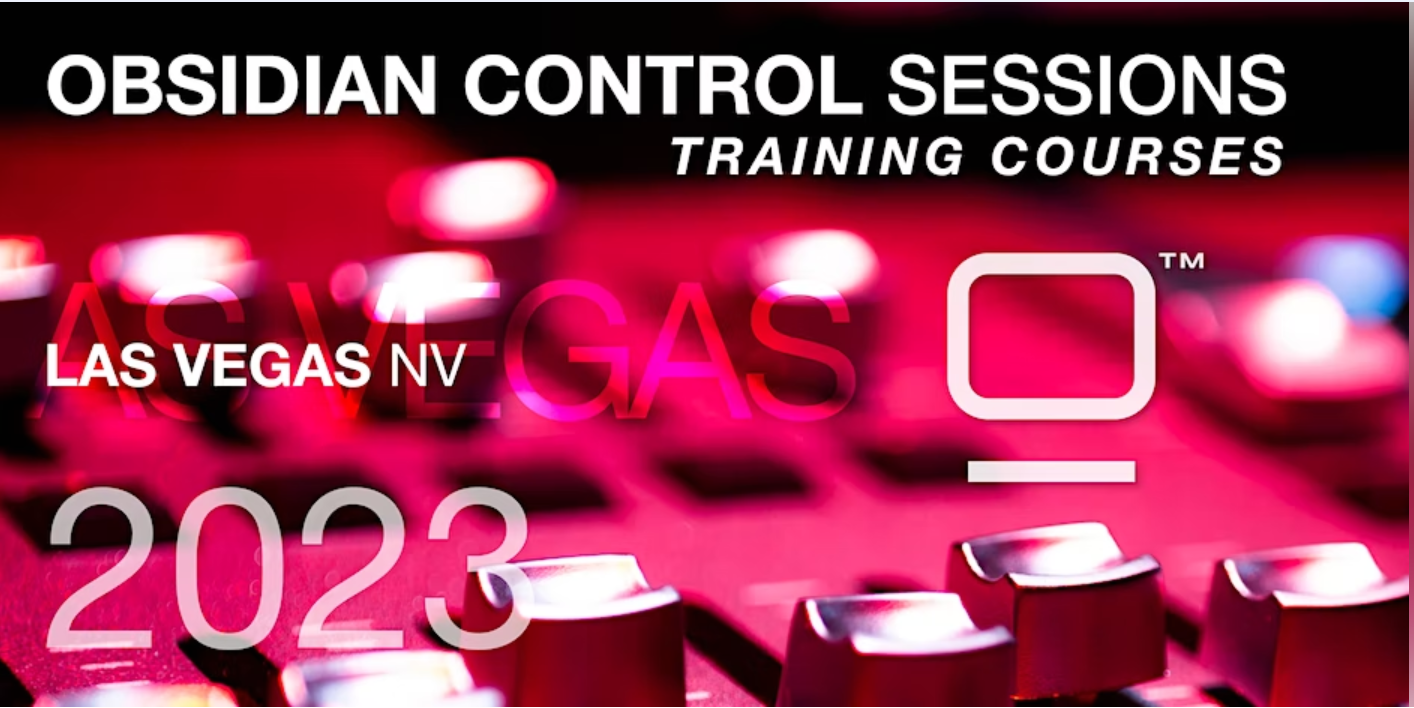 Obsidian Control In-Person Training; May 30-June 1 (Las Vegas, NV)
Obsidian Control In-Person Training; May 30-June 1 (Las Vegas, NV)
Obsidian Control Systems – In-Person Training Courses $249.00 per day
When and where
Location
Show and Design Group 6270 Banning Creek Drive Las Vegas, NV 89118 United States
About this event
Obsidian Control Systems will be hosting three daily In-Person training sessions on the Onyx control platform featuring the NX4 console, ONYX software, NETRON Ether DMX devices and Capture Visualisation Software.
Please join us as we dive into the intricate details ONYX has to offer. With many new implementations added to Onyx along with DyLOS and the Netron data distribution system now is the time to jump into these training sessions and get the most out of the ONYX platform.
This is an extensive course on how the ONYX operating control system works so that you can take your programming skills to the next level. Please note: while it may offer some advice on creative programming techniques it does not teach lighting design skills.
This fast-paced course requires a good working knowledge of basic entertainment lighting terminology. Attendees will learn a hands-on approach, using Obsidian Controls NX4 Flag ship console with the ONYX / DyLOS operating system NETRON networked DMX Nodes connected to Capture Visualization system.
You can register for either one, two or all three sessions, depending on your needs and experience level.
There are a total of 8 seats available for each session. We will have 4 NX4 Consoles, NETRON Rack and Capture system with 2 People seated at each console work station.
The Cost of Each day is $249.00
Participants who purchase and attend all 3 days will receive (1) NX-DMX upon completion of the course.
Sessions will run from 9:00am to 4:00pm
– Coffee and snacks will be provided in the morning
– Lunch will be provided
Day 1 (May 30, 2023 )
ONYX Beginner $249.00
The beginner course will cover the basics of getting the console online and setting up your showfile to begin programming, and start recording cues.
Topics Include:
Onyx Console Hardware Overview
Setting up a new show file
Patching Fixtures
Selecting Fixtures / Basic Command Line
Storing presets and groups
Recording Cues, Submasters, Playbacks, etc.
Storing basic effects
2D plan layout
Prerequisites:
Must have a good understanding of general DMX-512 concepts
Must have a general understanding of programming terms
Must have general PC computer skills
Day 2 (May 31, 2023)
ONYX Intermediate $249.00
The Intermediate Course covers the following:
Advanced Cue Concepts
The ONYX FX System
Showfile Management / Template show
Updates
Cloning
Playbacks
Customizing the Console Layout
Advanced Command Line
Intro to DyLOS
Prerequisites:
Must have a good understanding of concepts covered in beginner course (If not attending Day 1)
Must have a good understanding of general DMX-512 concepts
Must have a general understanding of programming terms
Must have general PC computer skills
Day 3 (June 1, 2023)
ONYX Advanced $249.00
The Advanced Course covers the following:
Netron Hardware Overview
Networking within Onyx
Advanced 2D Plan
Deep Dive into DyLOS
Advanced Grouping Tools, Timings and Effects
Macros and DMX Input
Prerequisites:
Must have a good understanding of concepts covered in beginner course (If not attending day 1)
Must have a good understanding of concepts covered in Intermediate course (If not attending day 2)
Must have a good understanding of DMX-512
Must have a general understanding of programming terms
Must have general PC computer skills