You and a guest are Invited! Apertura Showcase in association with the American Cinematheque and Alta California Pictures in association with True Form Films with support from MPS Labo, have the pleasure to invite you and a guest to celebrate a Special Cast & Crew Screening..
Tuesday, May 15, 2018 
7:30pm – Red Carpet 6:30pm

Egyptian Theatre
6712 Hollywood Blvd. Hollywood CA 90028
Join us before the film for red carpet entrances. Q&A after the feature with director Jose Angel Henrickson, actor-executive producer Alejandro De Hoyos and producer-actress Yeniffer Behrens. Evening concludes with a cocktail reception.
All media is requested to arrive before 6pm..
For questions please text me or call: 818.634.6593 Ray..
This is a free, Invitation-only event. ( Camille@EspadaPr.com )
"EL CONTRATISTA" (The Contractor)
Directed By: Jose Angel Henrickson
IN SPANISH WITH ENGLISH SUBTITLES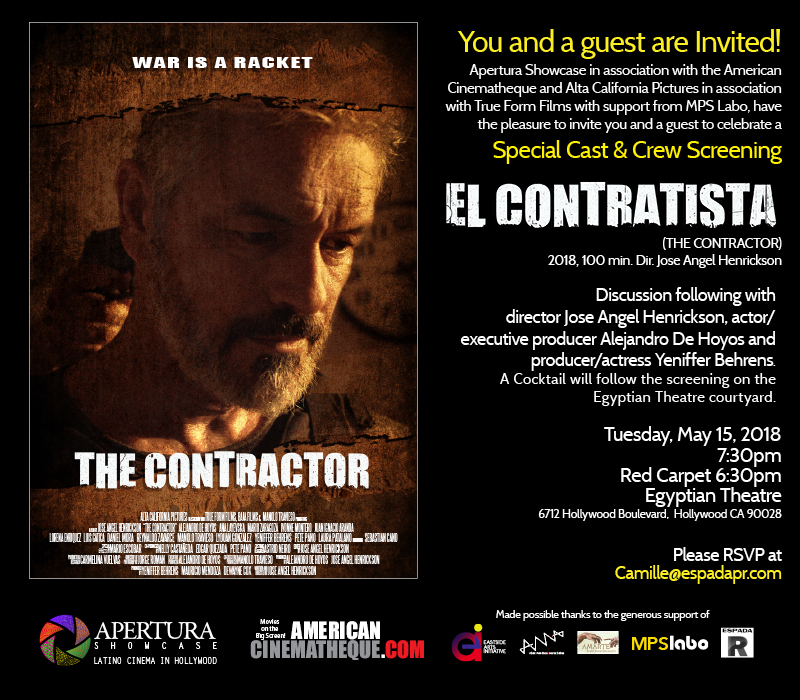 …..:::: CAST ::::::…..
Alejandro de Hoyos, Reinaldo Savarce, Ana Layevska, Lyduan Gonzalez, Manolo Travieso, Pedro Pano, Ivonne Montero, Mario Zaragoza, Lorena Enriquez, Yeniffer Behrens, Laura Patalano, Mauricio Mendoza, Luis Gattica, Juan Ignacio Aranda, Danny Mora, Luis Fernandez Gil, Angela Loreo, Ray Angel Torres, Sebastian Canoe
EL CONTRATISTA / THE CONTRACTOR – 2018, 100 min, USA
After reading an obscure but powerful book titled War is a Racket, ex-military private contractor Cano (Alejandro De Hoyos) is forced to question his entire career. But redemption may come with his latest assignment; he and his team are in Mexico protecting the life of young Erasmo (Sebastián Cano). The boy's family was murdered, presumably by a drug cartel in retaliation for articles published in his father's newspaper. The sole survivor of the killings, Erasmo has withdrawn to his room, where he plays violent video games all day – and returning him to school will prove more dangerous than Cano could imagine.